Needs
May 6, 2012
The never-ending spell of dread binds me
But no one, including myself, sees me crying
No tear is present on my face
But I'm still feeling so out of place

Why do they do this to me?
Can't they see my agony?
My only defense is silence
But this silence is only haunting my conscience

I can't keep going on like this
No more will their wounding words be dismissed

I'll fight back

They will grow weak from their attacks
And I will become stronger
They will shrink and grow meager

My words will be remembered
So horrible they are, will I be harbored?

I'm all alone

So tell me reader, may I have a loan?
Its not big, not too much
All I ask for is a touch
Of comfort
Unhurt
Safety
Trust aplenty

Will you do it?

Will you open your heart to this misfit?

Will you be with me?
Sit with me?
Stand by my side?
Will you at least try?

Will you protect me?
Will you deflect attacks for me?
Will you fight for me to the death?
Would you hug me so tight, I'd be out of breath?

Will you play?
Will you stay?
Will you wipe my tears away?
Would you look at me and say
"Don't be afraid."?

Will you make my troubles disappear?
Will you say the things I need to hear?
Will you make me laugh until I cried?
Would you be sad if I had died?

Will you dance
and take a chance?
Will you say
"Everything's okay!"?
Will you show me that life's worth the ride?
Worth the pain?

Will you listen to my problems?
Will you notice my unbalance symptoms?
Will you be there for me
even when I said "No need"?

Will you calm me down when I am furious?
Will you soothe me when I am anxious?
Will you heal my shattered heart?
Will you help me make my literature of art?

Will you sing with me when we're happy?
Will you cry with me when everything's gone crappy?
Will you not give up on me?
If I am lost, will you find me?

You see, I need to know
In order for me to show
that I am out of control.

I need a pistol.

My feelings are all negative
Its impossible to feel positive.
I feel I need the end
Or perhaps, I just need a friend.

Will you be my friend?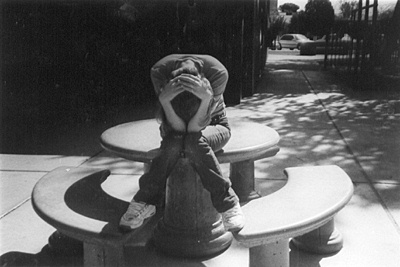 © Catherine R., Phoenix, AZ