The Goddess's Creations
May 25, 2012
The Goddess of the Universe,
after filling her solitary creation-
the Earth, her only child-
with plants of good fruit
and beasts, with their terrible beautiful ways,
was not happy.

These creations could not look upon her
and thank her for the gift of life,
they were not self-aware,
they had no free will

So,
carving her own godly, celestial form
into blood, flesh, and bone,
she gave her final creation
true life--a mind for thinking,
and a heart for loving.

And for a while, all was happy.

These creations adored their creator,
believing wholeheartedly in she who had made them be,
and the Goddess smiled, love in her gaze,
on her perfect, heavenly creation.

Then the Goddess saw a new being
rise among her precious babies:
Greed and Selfishness, hand in hand,
caused the humans to separate
with walls of empty, meaningless money,
and from the borders rose Hate

which rose into War

And the Goddess, she felt each blow,
as each fallen human was a broken piece of her soul,
and watched helplessly
as the humans pursued Greed,
fell to Selfishness,
and gave their lives to Hate and War,
they no longer cared for their Goddess.

The Goddess could not destroy her creations,
and simply tried to brush off
the false gods devouring her world.
Instead, the humans leaped onto her,
disrupting her body of planets and stars,
seeking to conquer the Goddess herself.

The Goddess is fallen,
their people walk over her,
just another frontier to overtake
and fill with their ungodly filth.
The Goddess cried for her broken heart,
torn by the humans incapable of love,
though that is all she ever had for them.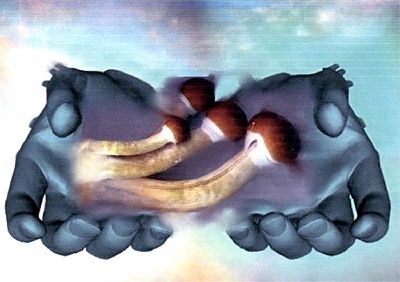 © Brad B., Colorado Springs, CO