Gifts of Autumn
May 20, 2012
The moment we step outside
and the air is chilled, the leaves in several, brilliant colors
we know that autumn in upon us.
It is golden,
the surrounding trees which were once filled with full, green leaves and blossoms
are now decorated in festive colors.
The dead, brown leaves under the ground crunch under our feet
as we admire the astonishing beauty of this season.
Now bundled up in sweaters, knit together with love and warmth,
we search for Halloween candy.
Stuffing our mouths with sugary delights, worrying our dentists.
Thanksgiving comes soon enough, cancelling school.
The morning we wake up,
we smell the turkey roasting in the oven,
and all different kinds of dishes traditional in our families.
We help by tasting the food rather than cooking,
and we mutter words of satisfaction as we taste the stuffing and cranberries,
green bean casserole, mashed potatoes, and cookies.
And when we gather around the table,
we say what we are thankful for.
The true meaning of Thanksgiving is not about the food or football marathons;
it is about spending time with our families and being thankful for all of our blessings.
Soon, the red and orange trees and festivities fade away into
an equally beautiful season: winter.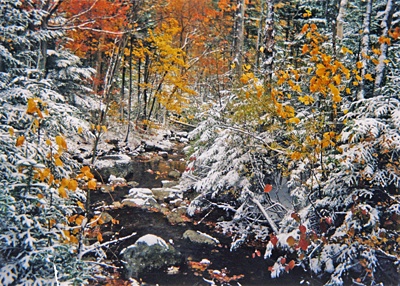 © Eric E., Lexington, MA