Seeker of Solitude
June 20, 2012
All was eerily silent that night.
The night his soul slipped from civilization's clutches.
As his oars broke the surface of the water
like shattered glass,
his wiry form was illuminated by the moonlight.
It was only the wooden frame of his dingy
that separated him from her icy fingers.

He rowed on, slowly and methodically.
After all, no one would come for him.
He passed the imposing lighthouse on the headland,
The last mark of mankind he would see 'til death.
He took comfort in the solitude,
never to see a disdainful smirk again.
Nor the happiness of another
To remind him of who he was.

And as dawn broke
He beached on an uncharted island
far from the sight of prying eyes.
He was meant to settle there
except his emotions failed him.
And as he was taken airborne
above the craggy bluff
he remembered
too late.
As his life was cut abruptly
by fate.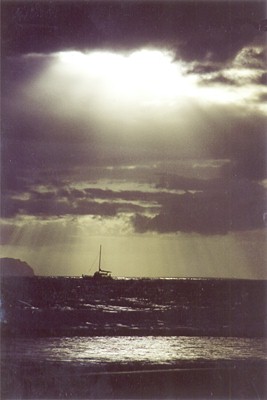 © lily H., Kekaha, HI