on capitalization (and the Importance of You)
June 17, 2012
just as human as you, I was made and christened
me, as the rest of the weary parents cried
in delight or bliss at what they alone and together
had created, cells sewn with love or coercion,
each child hand-stitched but with fervent care.
and I was welcomed and graced with charged words,
as beautiful, spectacular, miraculous as all of you.

I grew, my parents ever tailing me in pressed khakis,
passively pruning my ways until I dreamt of nothing more
than to become this true phenomenal "I", the one they all
talked about over festive centerpieces on the holidays.
as an exceptional eight year old, the attention
was all mine, singing in the stairwells as the rolled eyes
behind me echoed that I had grown up right,
like they had hoped, as if they'd say so if I hadn't.

I'd kneel to a man perched on a drain edge in the street,
and disregarding my parents gasps, promise him
a sandwich or a good book I had read, since he was just cells
after all, just marvelous like me. I would remark on the
fallen crab apple blooms lining the sidewalk squares, be wise
beyond my years, then skip and count the blocks home
in an imaginary language, that like my enviable ardor
with strangers, I had fashioned all myself.

I'd chalk rainbows onto sidewalks in the fall,
alongside leaves for marching upon to an lilting beat.
the free spirit of every class at school, soon the others latched on,
yearning to be friends, special too, and together
we sketched ourselves out on the pavement in secrets and jokes,
until most of the chalk was gone and turned into rainbows,
and most of the leaves had been raked or blown away,
and there was not much of only I left.

forever a girl of crushed chalk and leaf crunching,
of echoes and strangers, breathing praise in
and satisfaction out, i reminisce for all but this:
that poison instinct of "I", preached to me,
that self-imposed magnitude with which we gild our names;
erroneous and disgraceful, all along sinful, since
i knew that i was nothing more than hellos and goodbyes
and slivers of each other, and nothing of our own.

and as faces will lean over my coffin one day,
i'll be cells depleting, decaying, dividing once more,
denouncing my claim, my pilfering of You,
until i was a swirl of everyone i had ever met. a bit of You,
a smattering of You, all the credit i took and will take once again.
and You will all pay tribute to me, reading Your own future eulogies,
weeping for all that i was, all You still believe i made myself,
when i was not me even a moment or a while, but was all of You,
took You on as my name, and called You all "I".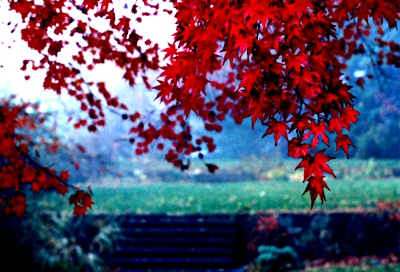 © Susan R., Iselin, NJ