From A Fantasy World
June 17, 2012
I am from musty leather-bound books.
A world of raw salty oceans and vine-engulfed jungles.
A land of pages where I can fly high if only I believe.
I am from Hogwarts, the North Pole,
Kalamazoo or the Great Barrier Reef.
I am from anywhere and everywhere I can imagine.

I am from this very room, or possibly just this rinky-dink town,
Or perhaps even the entire world,
In all the places connected to here, wherever here is,
Or perhaps I am from the Ireland and Germany
That my ancesters were so fond of.

But truly I am from freshly-cut grass and barbeques,
Hot dogs squahed onto rolls and bloodied with ketchup.
I am from soft floral cotton,
And blinding sparklers,
From thrilling trips to the grocery store,
Riding on carts with squeaky shaking wheels,
And getting free cheese at the glass deli counter.

I am from the ice cream jingles,
The chasing down of the truck,
And the rewarding rainbow rocket pops
That made us feel invincible,
Because we simply were.

I am from failed snowmen made of flurries,
From slicing ice skate blades
And soaked marshmallows bobbing along in hot cocoa.
From the thick piney woods,
And the claustrophobia of getting out.
I am from the friends in the distance,
Guiding my way, making me believe in love that is felt, not seen.

I am from picture books, from doll houses, from stuffies.
I am from the classic sick-day,
From Price is Right and orange jell-o.
I am from catastrophes and failed relationsips,
From caged and bottled fury,
From red faces, hoarse voices, and furrowed brows.

I am from patched pleather bus seats,
From the legs in shorts sticking to them
From the shrimpy best friend I met there,
And our plans to get to somewhere real.
I am from the grateful seagulls and their French fries,
From having my whole family in the same state,
From maple syrup and Easy Mac.

I am from glossy dust jackets, rosy watermelon,
And the feel of the runny juice speeding down my chin,
I am from never having a napkin fast enough.

I am from Im sorry, from What if?,
From always carrying my chin too high.
I am from the Whys and the Hows,
From always being too hopeful for too long.

I am from rat-a-tatting Chrisas leaves,
From seven angels competing for the top of the tree,
From light and mystery and skepticism.

I am from the people I have met,
From the child I was,
The girl I have become,
And the woman I will be.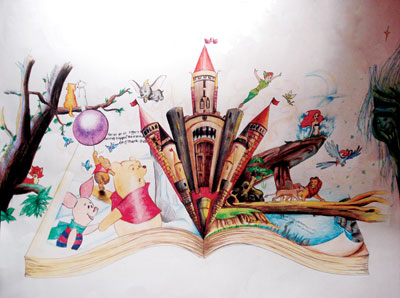 © Shirley L., Chino Hills, CA