What matters is you matter
June 17, 2012
She may have fears
but she can climb that wall
& she'll stand before god shouting
"LOOK AT ME BECAUSE I STAND TALL"....about 4 feet.
But what matters is that I matter is all.
Because I am here & I exist & I want to matter like I did
(because I did)
But WHY did they get rid of me ?!
Couldn't they see?
That I was going places
I am destined to be more than my selfish mother nor my selfish father could ever begin to believe.
If you did not want me.
Then
why
was
I
conceived.

but it's their loss they left me.

So WHERE DO I GO WHEN FAMILY HAS LEFT
the streets are no home
and my pain wont regress.
So I'm turning to prayer,
something that I know best.
But what if I am not answered...

what if god forgets.

HELP ME PLEASE!
"sir can't you spare a dime"
I am not asking for your sorrow I am not requesting your time
I would just like to eat.
Is that too much to ask?
I AM HERE AND I EXSIST NO CHILD DESERVES TO LIVE LIKE THIS!

Because I matter....

if not to you ....then to god
if not to god... then to someone else.
If not to anyone...
then myself.

But everyone matters.
WHAT WERE YOU THINKING
when you walked away from your child's cries
those NINE MONTHS of carrying a blessing you couldn't bare to see that you wished to hide.
How dare you take my childhood away from me.
But I am not hurt.
She said "I am not weakened, you will not see me fall."
She said "How could I expect to mean more to people I have never even known."
she said "But what should have mattered to you... is that I mattered at all."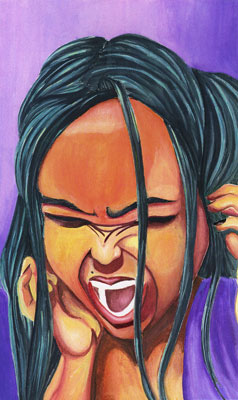 © Kriztille J., Briarwood, NY