Butterflies Fly Away
July 10, 2012
There they go flying away
Because they could no longer stay.
Look at their wings fluttering by.
You can see them in the sky.
Now, what could they be?
After all, this writing is coming from me.
They are butterflies.
Alright, here I go.
Let me start the story,
So there are no worries.
You see,
Butterflies mean so much to me.
They represent my life.
Butterflies are first caterpillar.
Then, they transform into killers.
Not literally, but because of their beauty.
So they went from being something ugly to something pretty.
Not only this,
There is more to it.
Butterflies fly away.
I would usually run away
Because of my pain
That I would try to escape,
But running away from my pain was no good.
That, I understood.
Butterflies remind me of happiness,
Yet a bit of sadness.
They make me feel as if I were free,
But free from all my misery.
Oh, butterfly, fly away, fly away.
Wait, I cannot escape my pain, I cannot escape my pain.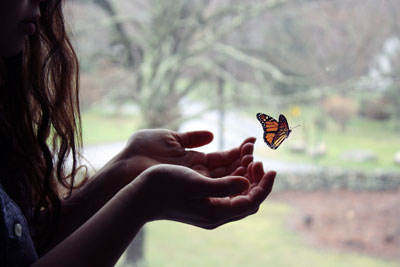 © Sandy H., Woodbridge, CT