Emma who
MAG
July 22, 2012
Emma has been reading those socialist newspapers again.
She's all talk and occupying Wall Street, saturated with anarchy,
says she doesn't shave her legs 'cause she doesn't submit to the patriarchy.

Dressing in those $100 jeans ripped up to look punk,
I tell her real punk doesn't cost more than
$3 but she's too busy
packing her face full of metal.

Middle-class white girls don't belong there, everyone knows that;
but Emma who refuses to listen sees something wrong with the system,
Emma who claims to be a radical at sixteen,
Emma who's really just a cog in the capitalist machine.

But she's still Emma who holds my hand at night and whose eyes are like glass jars containing fireflies,
Emma from whose lips fall tender lullabies and whose oversensitive thighs
unfurl like the flag of the nation she claims to despise.

By the dawn's early light you'll still find her there
Emma who loves Thoreau but will debate you on Voltaire.
Emma who never grew out of her angsty teenage stage,
Emma who will vex you, pique you and disengage.

But don't tell her I said that.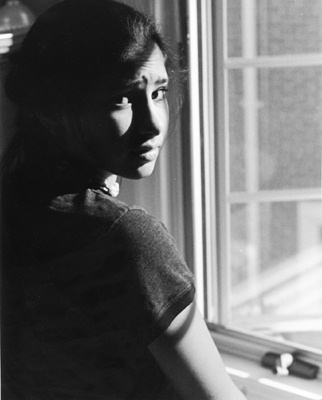 © Jennifer H., Bethesda, MD