My Friend has Story Hands
July 25, 2012
Do you remember when we first met?
I said I liked your bow tie.
You said "thanks."
I asked if we could be friends.
You said "sure."
We talked about each other and when I left
I asked for a hug.
You gave me a really good one.
I came back the next week
and you remembered who I was.
Not just my face,
you remembered ME.
That's when I knew you were my friend.

I noticed your hands right away.
How could I not?
They were always moving.
Especially on that tin whistle you carry
with you everywhere.
I like your music, and the slight Irish
accent in your voice.
One day, you came in with
your knuckles all cut up.
I asked why and you said you got a new puppy.
I smiled.
Every week for a while your hands were
covered with scratches.
I liked to hold your hand and run
my fingers over them.
You wondered why I liked to.
I said I just liked to feel a person's hands.
True, but more than that, I like the feel the
stories hidden in the calluses or softness or scratches.
I liked the feel of your hands.
Guess what?
You've got story hands.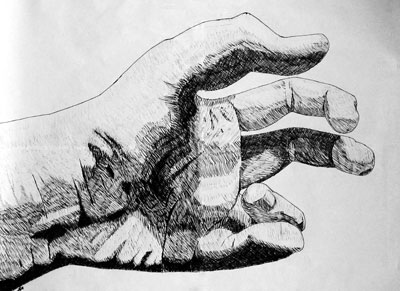 © Luke S., Montclair, NJ