Total Control
July 26, 2012
Gulp,
Gulp,
Gulp – first bottle of water emptied

I look in the mirror and stare at my bare body.
My skin is tan and healthy, opposite to how I feel inside:
Pale,
Hollow,
Empty.

My stomach moans, and I stare at my midsection.
I squeeze it, as if to yell, "Stop!" and pull at it,
Wanting to rip
All the fat
Off.

It moans again, "Feed me!" it cries - but I won't give in.
I open the tap and refill my water bottle, and drink it down
Again
Gulp,
Gulp.

It's not fair that so many girls look like models -
Perfect Barbie dolls that are downright gorgeous
Admired by boys
Photogenic
Skinny

I re-hook my bra and go to my room.
On the corner of my desk, there lies an unopened candy
I can taste the sweetness
On my
Tongue.

"Don't do it," I whisper to myself, pleading for strength.
Reluctantly, I pick the candy up and head to the full-length mirror
And stare
Just stare at my body
Silently.

"Do you want candy, or collarbones?" I ask myself. "Chocolate, or a flat stomach?
Do you want cupcakes and cookies, or hipbones, small thighs, and a perfect butt?
Do you
Want
Confidence?"

I throw the candy into the corner of my room with anger.
I can feel myself screaming inside with rage
I
Hate
This.

Mom calls me for dinner and I make my way down the stairs.
I sit at the table and stare at the meal she has made for me:
Filled with
Carbs and
Fat.

I drink my water before even touching my fork.
Am I hungry? Am I really hungry?
My stomach moans
As if to say
"Yes."

But I can go without it – I'll feel great – I'll look great.
I sense my mom watching me, so I push half of the food to the side.
"It's just
Too
Much" I explain.

I take another sip of water, and think of what would happen if I ate the food:
I would chew it, swallow it, and it'd all go into my stomach
Then slowly my body would absorb the calories,
All that sugar,
All that fat!

"I'm not hungry, Mom," I say. "I'll have it later." What a liar.
But, after all, skinny girls don't eat unless they have to.
They are controlled
Determined
Perfect.

And I'm not even remotely close to their perfection yet – I'm not one of them.
I envy them. I want to be them, and be skinny, and feel my ribcage,
And not be
Chubby,
Chunky,
Tubby,
Thick,
Plump,
Porky
Me.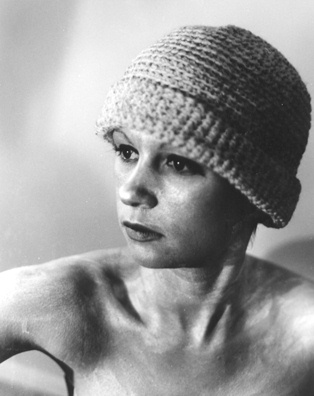 © Rachel R., Warren, ME