Watermelon Lollipops
August 15, 2012
I remember loosing my first tooth,
I bit down into an apple
and felt it bend completely backwards.
I spend the rest of the day
flicking my tongue over the gaping space
that still tasted like blood.

I remember picking out spelling words
to study for the week.
I chose florida, ocean, and dolphin.
I remember feeling that personal warmth
that you get when you've done well
when my teacher graded it a 100%.

I remember the tiny cafeteria
in my tiny elementary school
where I sat amongst my tiny classmates.
Looking back, I was always smiling
right next to my bestfriend. I miss it all,
just not the lunch lady's meat special.


I remember in kindergarten,
when all the other kids ran to recess
I lingered behind to clean up the broken crayons.
Miss Hess always gave me a lollipop.
A watermelon Dum-Dum,
she knew it was my favorite.

I remember the Christmas concert,
it was first grade and my bestfriend
wasn't in my class.
My teacher asked me, and only me,
if I would like to recite with him.
We read The Night Before Christmas.

I remember putting on lipstick
after my mom left for work.
The smell of her goodbye hug
made me want to run head first
into adult hood so I could be
just like her.

I remember, all I wanted was to grow up already.
Cars! Boyfriends! High School! Happily ever after?
Little did I know that now, years later,
all I want is my baby teeth back,
harder spelling words, and to clean up broken crayons
and be rewarded with a watermelon Dum-Dum.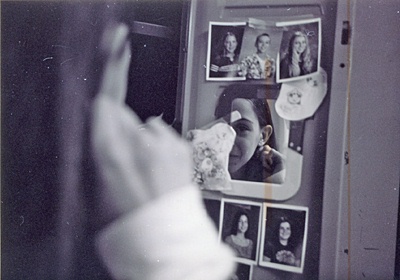 © Kaleigh W., Pompton Plains, NJ