The Kite
August 20, 2012
That little red kite in the sky
it's flying around, carefree
but still pulled back by a string
that person, the one at the other end of the string, the controller
Joy in his eyes. Well, not joy, but something
He doesn't want for the kite to go off out of his reach
No more than 20ft off the ground
maybe that's all the kite needs
Maybe that's enough space as it needs to fly freely
that person is probably lonely, if the kite manages to fly away
what will he have?
Quite a weird thought, but it seemed natural.
That person with a red kite, an extension of his soul
I could see it, hope
The kite went down slowly
That's it for today
Kite tucked beneath his arm, dead hollow eyes
That person drags himself back to what seems an empty house
Door locked
Curtains shut closed
Lights off
Tomorrow, he will be back
To the same park, with the same kite
Just like everyday
Just the usual routine.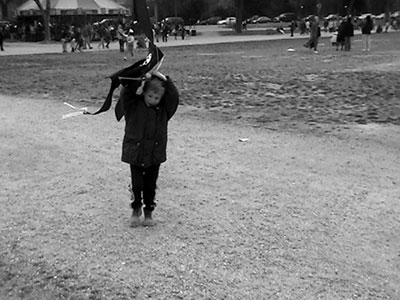 © Nina S., Arlington, VA