voiceless exchange
October 11, 2012
i clasp rough hands
with the sallow faced man
one evening on a
deserted road.
golden rays of darkened sun
trickle over
our inclined heads. The silence that
surrounds us
works to make itself
prevalent in my ears.

The only sound is the
occasional dry whispering of
browned leaves against the aged
pavement.
Secrets are exchanged amongst
wilted trees as a
soft wind meanders through the air.

I gaze upwards through
a river of mist as grey as
the cracked ground beneath my
scuffed
tennis shoes . The failing sunlight
casts shadows across the contours
of his face.
In the approaching darkness
I only see a sunken pair of
Dark eyes.

These eyes are wise.

These pools travel to the very depth
of his aged soul.
Suddenly I don't know
this sallow faced man. I gaze back down
at our intertwined fingers. My hair
falls over my face
a curtain
a wall
to hide my crumbling façade

My hands have not known the pain
his has. I feel
ten thousand hours of labour
flow from his hands to my
own. The roughness of his calluses
are softened by my own youthful
palms.
A warm teardrop falls
onto
my hand.

And I know
that he
is crying.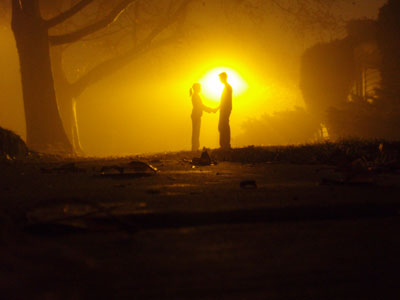 © Tanner H., Kaysville, UT