Shallow Night
November 1, 2012
Trick-or-Treaters
Knocking on my door
Laughs of children going door to door

Leaves falling from the trees
Moonlight shining, oh so bright
Shadows traveling, out of sight

Jokes and laughter with the rest
The hour has passed, time for I to go back

Entering through the stingy door
I say ", Hello," and then no more

They say ",why the attitude."
I say ", there is none. It's just iv'e only had an hour to have a little bit of fun."

They get mad, their faces turning red.
Yelling for me to be greatful for all they did.

I try not to yell, yet they do not understand.
I'm only upset for them telling me what a terrible being I am.

Aftermuch arguing and fighting I say ", okay, okay I'm sorry for everything I did."

My wall is slowly breaking,
so when I return, I go for a walk
under the shining moonlight,
and between the shadows cries.

They do not know what has happened,
it shall stay this way.
After all it's Halloween Night,
and they should not be sad.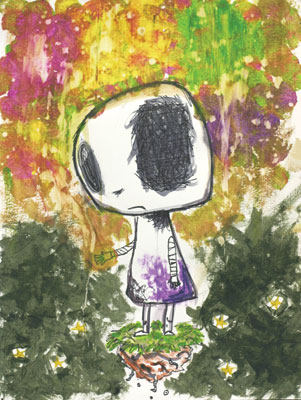 © Ashley W., Port Charlotte, FL