His Story
November 11, 2012
She waited for the ending
of what he never finished
the story with all the fairies and princes
She waited for a week,
a month,
and a year
then she finally asked her mama ", when is daddy coming home?"
The mother looked at the girl
only six years of age
She said ", come with me. . ."
". . . you will see daddy one last time today."

They young girl followed
clad in black
questioning why her mother was crying
until she saw someone putting a lid over her daddy
She screamed and cried
yelling ", he can't breathe,"
", please don't bury my daddy"
" please don't take him away from me!"

The clouds turned grey
as a man walked by saying
"hello anabell"
He took her hand and gave her a tag
that said Captain Gary
Years passed by with
the rain,
the heat,
the leaves,
and the snow.

The girl grew with no ending to her story
Then one day her son asked
"mama, will you tell me a story?"
She sat down and told a tale
where a king went off to war
where he lost his life
for his people
only to become the savior of her world.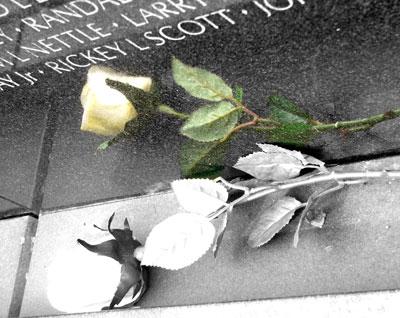 © Kimber E., Yorktown, VA