you make my teeth hurt
MAG
October 29, 2012
in a dream
(and oh, it's always in a dream)
you clung tightly to my body
like an infant,
needy,
sucking my life away from me
like milk.
you buried your face into my jugular,
kissing my neck until
i thought you must not be breathing.
the name abraxas came into my head,
and in a dream (oh, always in a dream)
i wrapped my arms so tightly around you
and felt only
your lips
and then your teeth
until i had the presence of mind to startle awake.

in my dreams (always, always in dreams)
you do not speak.
your eyes are closed
and you express yourself with smiles
and fingers
on my pulse points.
we do our best
to reassure each other
that we are still codependent
and still connected
and still so very alive.
if a blood-sucking capuchin monkey
was latched onto me,
i might see no difference.
but i don't want a monkey to love me,
and even in my dreams
your hands are far too warm.

the gaps in my fingers are aching,
softly,
almost in a good way, except
that i know you can fill the places
whose emptiness i feel,
and i know i would love it
even more than this.
i know the heat of your skin
would drown any of my doubt,
that your lips
would taste like iron
and feel like a cold night out
on the water.
hydrilla tangles through my cortex,
and i wake up clutching my
damn pillow like a lover.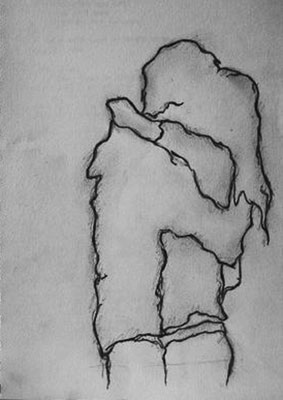 © Nicole B., Newcastle, WA