Pickles at Midnight or How I Spend My Day "Writing"
November 28, 2012
I get up late-ish.
I eat, shower, dress.
I open my laptop and power it on.
(Meanwhile, downstairs, people are moving
and talking and getting stuff done.)
Shivers make me put on a hoodie.
No socks; I put on socks.
Laptop on, I open OneNote and stare at
what I'd written the past night.
(Inside I groan a little because it's not perfect
and it needs to be perfect if I'm going to move on.)
Dog comes in, lies down.
Cat comes in, dog growls, cat leaves.
(I've given up trying to make the animals stay away.)
I place my fingers on the keyboard and type
words on the screen.
And then backspace them, because they're not perfect.
I yawn and check Youtube.
I open a new tab and select Facebook.
After a minute of checking notifications,
I close the tab and close the window and
got back to my imperfect story (that I seem to have been
writing for a very long time.)
Why does it take so long to make things perfect?
People downstairs are eating lunch.
I got up late, ate late breakfast.
I don't eat lunch.
Mid-afternoon, what have I written?
Some comments on various sites, and my story
is still imperfect.
Visions of me sitting in a drafty attic wrapped in
a patchwork quilt in front of a typewriter come to mind.
"If I can just finish this revision, maybe my story will sell
and then I can buy food!"
My future as a poor, starving artist is looking
very probable.
Youtube keeps me occupied while my characters
fight each other with wooden swords and frying pans in my head
and the villain argues with the protagonist about
the questionable lack of back story.
At five o'clock my dad checks on me.
"You writing?"
I pause my music (Skyward Sword soundtrack) and
look at my pitiful work.
"I'm writing."
(I'm trying, really.)
Dinner time.
I venture downstairs into the quieter house.
Yummy food makes me think.
After washing the dishes and thinking
I wander slowly back up to my room and
burrow under my laptop again,
fresh ideas ready to pose as coherent sentences for my story.
Maybe they get written.
They're definitely imperfect.
I leave them be.
I do stuff until 11:00, including writing
miscellaneous snatches of poetry
and stories about drunkards and other things
I know nothing about.
When the hall light goes off and I hear my
parents' bedroom door close
that's when my brain decides to switch on -
at 12:03.
Then my stomach rumbles, like it seems to do every
time I think about going to bed.
Some night I stay up,
doing stuff,
some nights I go to bed, (not necessarily to sleep.)
Some nights I haul myself out of my chair and downstairs
because I am hungry and feel like doing something
about it.
Choice midnight snack: pickles.
If there's no pickles then I might eat some kind of chip or cookie,
but I'd prefer pickles - not because they fill me up, but
because
that's what I like to eat at midnight.
Then I got to bed
and dream about what I haven't written
and wake up at 2:36 and wish I had.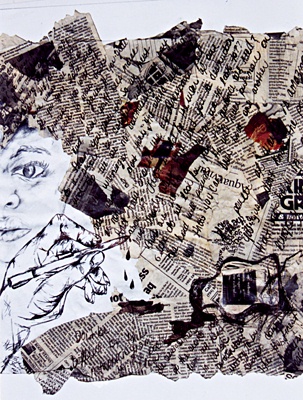 © Lashieta F., Kannapolis, NC