Lovesick
November 23, 2012
I now understand what it means to be lovesick
The term has always escaped my vocabulary
Floating somewhere between infatuation and influenza
And from what I understand
I am better of not knowing.
Who would have thought
That you would be the catalyst
Infecting me with your eyes without realizing
That your sweet-heart smile was hospitalizing me
With each passing second.

I now understand what it means to be lovesick.
The monotonic monitor bleeps
Reporting my heart's frightened rhythms
As the disease spreads
Flushing my cheeks
Disrupting my speech patterns
Turning my stomach into a taut trampoline.
And my mind is stuck in a Stockholm syndrome
Because all I want
Is to be with you again
Even if it means getting infected
By your quiet laugh and those moments
When you let your guard down
And your face lights up, vulnerable and trusting
Sending me in a downhill spiral
As the disease turns terminal.

I now understand what it means to be lovesick.
I have to get you out of my head
Get you out of my system
But you've weakened my defenses
And I'm finding that
There is nowhere I can hide
And the antibiotics aren't freeing
Your grip on my mind.
The IV drips as steadily as my tears
As I claw at my chest
Trying to tear out my hemorrhaging heart.
I don't want to sleep
Because every time I do
The dream is so much sweeter
Than the nightmare
Where not even the morphine can keep you out.

I'm succumbing to this disease.
Who knew this sickness would be fatal?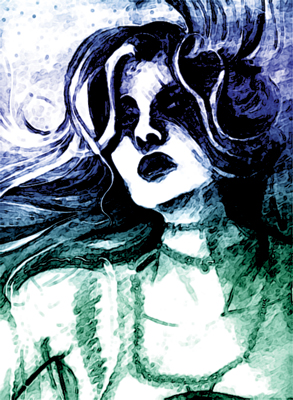 © Sindi J., Westminster, MD