What the Mirror Shows Me
January 8, 2013
I see an empty mirror.
It stares at me – as if it wants me to see
The nefarious reflection I know I'm supposed to be.

It demands to know who I am.
The truth, despicable and beautiful together.
So I tell it. I confess. I leave the haven of my mask.

I tell it that I see what others cannot see.
I tell it that I can see in the shadows,
In the dark, inky black that whispers fears to me.

I tell the empty mirror that the voices never leave.
I tell it that I hear them, even when I dream.
So the mirror shows me the people that I see.

I touch the surface as the familiar faces
Stare straight into me.
I tell the mirror what the others say:

They say I have a curse that makes me this way.
I say that I have a gift that they are too blind to see,
But they ignore my voice buried by disarray.

They say I do not belong,
They tell me that I need to be taken away.
I hear them say these hollow words and think:

It is a crime to be different.
It is a crime to be me,
And it is wrong for me to see what I see.

But what they do not know is that what I see
Is just…me.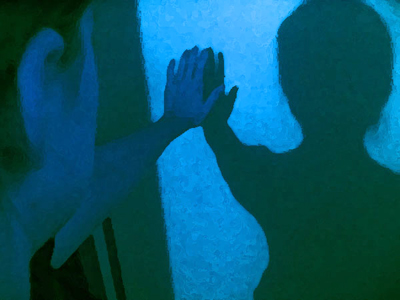 © Katie C., Libertyville, IA