to sophia
MAG
January 17, 2013
the highways of Boston
must be bordered by dead men.
I saw one lying there once,
blanketed by street lights in late July,
watched it come up beside my car
like a pale stationary fish,
thought for one crazy minute
that he was sunbathing
on the side of the road
in the middle of the night.

looking for an address I'd
only seen on Christmas packages,
watching the neon numbers
slide away into the dark,
I felt like
I'd been driving for hours
and we didn't have the time to slow down
or dwell on it
or wonder why he hadn't been
wearing any clothes.

I found your door at last,
was welcomed by sweat stains
and vaguely remembered faces
and you in the middle of it all,
"Sorry, we don't have any
air conditioning," but
I told you it was all right
and followed you upstairs,
dizzy, tired, overwhelmed,
glowing with heat and the joy of reunion.

we sat out under the bug zapper
on your tiny side porch,
getting used to each other's voices
all over again.
I remember watching the mole on your upper lip
the same way I did
the first time we met,
startled by how little you had changed,
wondering if you thought
I had changed too much.

sometimes when I dream,
the dead man still appears
tangled up with salsa and lawn sprinklers,
swimming in your bathtub
beside our grass-stained feet.
sometimes when I come home and
check my email,
when I have no new messages,
I wonder if I ever saw him
(or you) at all.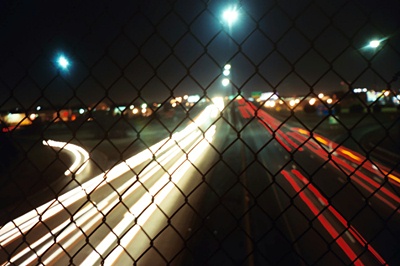 © Jordan L., Wichita, KS