Rogue Angel
January 24, 2013
One night while washing by the stream,
I heard a voice ring clear,
"Who goes there stranger?"
Then another,
"Tis' an angel bathing there.
Do you not see her golden locks?
Flowing down in waves?
For there she sits,
A glowing form,
Her wings a starry maze."

The voice that answered,
Was deep and gruff, sinister, and somewhat huffed,
"I see now clearly such a creature,
Dazzling as she is rough.
And there lay upon her stomach bare,
Many a gash and scar,
Do not be fooled, my dear friend,
Her beauty is a mask by far."

To true was he, watching me,
As I sat there by the stream.
I was cast from above, and forced to roam,
The earthen plains you see.
Many a war I had fought,
And much death I had seen.
And dared I go against the rules,
Of a godly being so serene.

Rising slowly out of the water deep,
My naked form wet with water drops.
A foamy glaze rises over their eyes,
And their steps slow to a stop.
With dry tearless eyes, and perfect aim,
I take their lives so swift.
My beauty being a curse,
My heart in pain,
My soul forever forced to drift.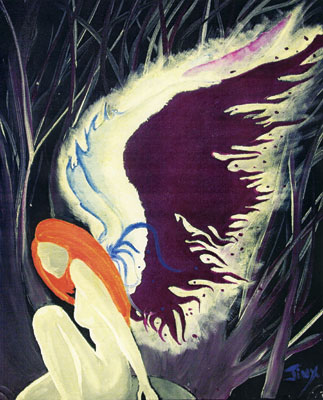 © Megan B., Youngstown, OH