Late Night Perfect
February 10, 2013
Woke up at four,
My lips were dry,
Curly hair tangled,
Eyes wide, alert
Thoughts began to lift up through my chest,
Ideas filled my head, I left my bed.

Paper was a rare commodity
When all you did was write
Write, write and sleep.
Try to sleep.
And write.

On this occasion I was fated,
Handed from across the room,
Across my covered floor,
Littered with love letters
Bad rhymes
Lost thoughts and
All the overdue library book fines,
You could forget to pay.

I was handed the only clean sheet
The only empty place to store a thought
The only, last, hold-on-to-it chance to say what I mean.
It was passing me by.
Try.
Try to remember. Focus.

Clear space in a cluttered, scribbled world for an idea
Is rare. And beautiful. And don't waste it.
Rack your brain for better words,
Try this time to say what you mean,
Don't pass this one to a dumb love song,
and say, "Here, I was finished with it anyway."
That lab report won't fill this page,
It can wait,
Hold the phone.

The words from my finger tips were tense.
Black against the cool white page,
I erased.
Took a deep breath.
One new almost-there poem to the mix,
One new mass of words streaming, flowing from my wrists,
Let it join the list.
Let it find a home among the rest.
I took a deep breath.
Wrote calmly, truth of my dreams,
Went back to sleep.

In a corner of my room,
That paper sits.
I'm sure if I could find it,
Among the scribbled-cluttered rest,
You'd agree,
It's the best I've ever written.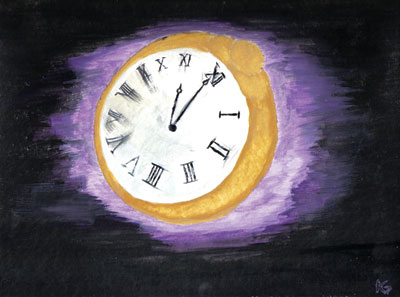 © Kyle G., Clarksville, TN