I'd Give You Anything
February 17, 2013
I could see him standing at my door,
Oh dear! I had dreamt of him before.
I ran to the door and shut it down,
I didn't see it but I felt him frown.
'It's your mommy's turn', he said to me.
'Open the door and give her to me.'
'Go play with your mommy, please don't take mine.'
'Open the door! I don't have a lot of time!'
'Don't you have a heart?' I said to him.
Something told me he had a whim.
'Oh no, I don't have it.' He told me plainly.
'And that's what prevents me from seeing things clearly.'
Give me your heart, my dear child.
I sensed his tone becoming greedy and wild.
'No, it will hurt, it will hurt a lot.'
I said my mouth dry and my brain with a clot.
Foolish girl, a little pain she can't bear.
Her heart may go, but her mommy I was going to spare.
My heart took a giant leap, my eyes filled with tears of joy.
Mommy was going to live! I couldn't help but rejoice.
Take my heart, you nasty devil! For I don't need it anymore.
I looked at mommy, I was confused, but I opened the door.
He raised his hand, smiled maliciously, and ripped my heart
out of my chest.
'See, that was easy.' He sounded as if it was a jest.
It hurt like hell, was unbearable.
Of course, I was just one more than five!
But it really meant nothing to me, if mommy could stay alive.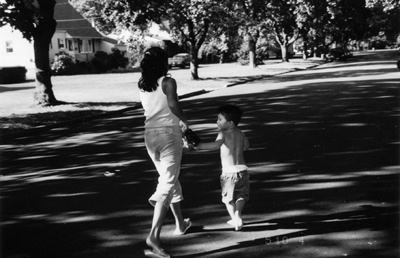 © Angelica M. Pequannock, NJ