The Worm
April 2, 2013
Let's talk about it.
You were always that itch
I could never reach,
The dire question that
I could never recall.
You stowed yourself away
In a vague & cramped corner
Of my head, expanding and
Expanding so selfishly
Until you made my skull ache.
A lobe-sucking parasite
Chomping on my brains
And pumping your bloated gut
With personality, to make you
Seem human.

With thumb and forefinger,
I plucked and drew you
From my ear.
Your mouth was blue
And swollen like a
Gluttonous infant torn
From the teat.
I flung you on the asphalt
By the gutter and watched
As you writhed & fried.

Forever will I relish the sound of your crunch
Under my shoe.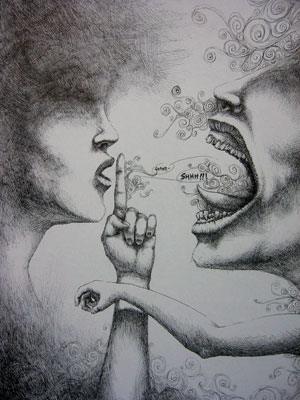 © Andrew M., Apple Valley, MN