Fire and Ice
April 28, 2013
Blue-gray ice,
lost in a sea,
found by fire,
orange-red flames.

Not melted,
but loved.
By that which shouldn't,
yet does.

It won't work.
It can't work.
The world has decreed
that it must be so.

The fire wishes,
she hopes.
Optimism, however,
has never been her strong point.

The ice.
He is beautiful.
Glittering like a fairy
with crystal wings.

Oblivious, hopefully,
to the affections of his friend.
Being a friend.
But only that.

The fire looks on,
flame burning,
knowing.
Yet dreaming.

Orange-red flames,
lost in a conflagration,
found by ice,
blue-gray cold.

Not extinguished,
but sustained,
by that which wouldn't,
yet does.

Orange-red tresses,
Blue-gray eyes.
Both wanting...
what they can't have.

Fire and ice,
Together but apart,
opposites in every way,
alike in the same.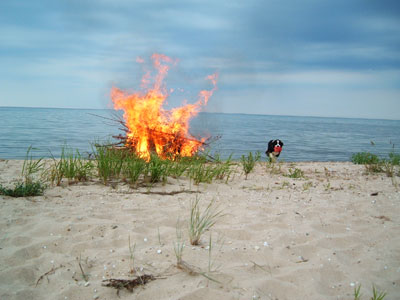 © Hilary L., Rogers City, MI