Mirrored Perception
July 22, 2013
The sky is ablaze with lights
While echoes that sound like battlecries ring in my ears
And people cloak the grass in blankets, chairs, and shadows.
BANG! A shadowy figure drops.
The air smells like bug spray and explosives.
Time slows to a crawl for anyone who witnessed the blood pour from the wound.
Someone once told me, "Don't fight, and don't argue just wait. When the Fourth comes around give them that Pop Pop and slowly walk away.
Now blend in with the crowd and electrify your face for a nice shocked
Look to complete a day's work."
Chained down in the depths of their souls resides the sense of regret and
Regard for the life of another.
They are slaves to the violence their life shows,
And blinded to the point that seeing what's right is impossible.
As the saying goes, "Two wrongs don't make a right."
And taking the life of another doesn't bring us any closer
To building a better world.
No matter how many times you stand tall and pull that trigger
With the left while looking into a mirror it will never be right.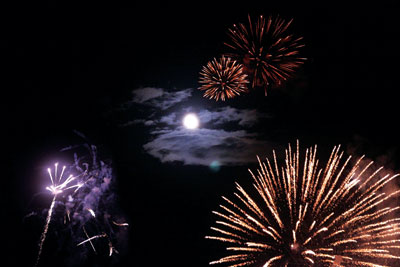 © Meena K., Groton, MA