Scarlet
August 1, 2013
She stared down at her hands
Stained with red
Funny, she thought.
Red WAS my favorite color
She puzzled for a moment
Trying to come up with
Beautiful things that were red

All she could see
Was her sister's blood.
Oozing through her fingers
Stuck under her perfectly painted
Finger Nails
Dripping onto the bridge's rail

She took a deep
Deep
Breath.
Looked up at the star speckled sky
And then
She jumped.

She hit the water's salty surface
At such the perfect angle
That she plunged
Deep beneath the skin of it.
She was unable to move
Floating like a tiny red blood cell
In the vastness of the ocean's veins

As all the oxygen
Flooded from her body
In burning round bubbles that shimmered
As they lifted to the top
She watched the water turn from blue
To green
To purple
To orange
To red

At last
As the water pressed down on her
Her lungs beyond pleading
For air
She closed her eyes
And smiled

Ah, she thought
She remembered
Beautiful red things again.
Red,
the color of roses
Lips
Strawberry soda pop
And the perfect cherry
Red,
The color of the best nail polish
Her umbrella back home
A cardinal
Her own hair, her skin when sun burnt
Her name.

Her last thought
Was simply
Utterly
Nothing.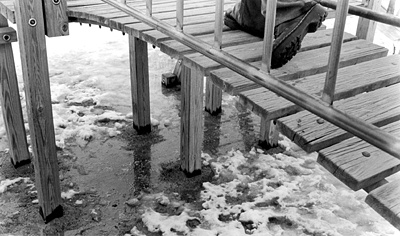 © Rebecca S., Marblehead, MA