Para Voce I
August 5, 2013
I sit on the cold, purple
silk, surrounded by
the pure silence of white.

pale,
bored.
like me.

A wooden mirror.
It's made just for
the walls the way it's made for me..
to remind me of how lonely
I've been since you left.

Two chairs.
I can glance at
them and be reminded of
the times you'd sit there;
your legs crossed, your eyes
paying close attention to
your stubby fingers as I spoke
to you on things that you
probably never really cared
about. But I can't say I ever
really took into consideration
that you didn't care,
because it was the thought of
just having someone to hear me
out that mattered, the thought of
pouring my heart out when the
world held a tight grasp around
my mouth.

Press shuffle on my black phone.
A song plays.
Our song plays.
I am reminded of you,
reminded of the summer night
under the hood of your father's
new black truck when we saw two
wishing stars fly through the
starless night, and I know we
were with a
group of friends, but when
you declared our forever,
everybody but you turned into a
giant movement of blurs.

The pencil glides against
the paper softly,
I whisper things to you as
I write in my journal dedicated
to you.
All for you, darling.
Just how you like it to be.

And when I am done with what
I've got to say to you,
I close my journal,
and I look up at the mirror.
and I cringe because
the smile in the
mirror is much like yours;
There,
Distant.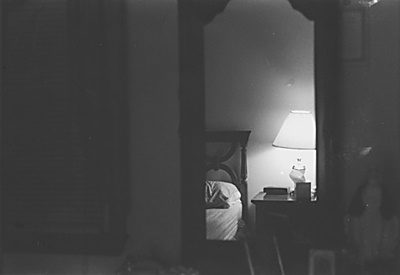 © Photo by Stefanie G., Norwalk, CT