Fall Without a Crunch
September 17, 2013
Thin grass blanketed in sheets,
my lungs wide with crisp air.
Arms bare, legs covered,
the sun failing to fry the cool air.
With a step the wind whispers
goodbye
and my hair transcends.

Leaves sing a song in low baritone,
the weep of death as my shoes pass over them.

I feel the peeling bark,
an old tree begs goodbye,
their shattered stain glass droops in color,
proclaiming last hope.
Without harmony the grass begs
farewell
as it is burried alive.

Beside a brook, the toe of my boot lingers,
a sting of cold rushes over, the spell of winter almost here.
Leaves push up against rocks
as they are bodies of summer
floating down to the cemetery of fall.
Adieu
beseeched the wood, death lingering within.

One last gust shook the earth, I stand frozen,
Summer has lingered no longer.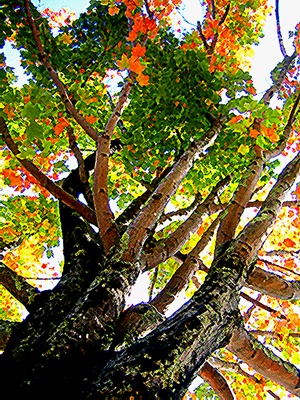 © Kathryn R., Shelby, NC