Clear
September 21, 2013
The slippery pebbles squeak under my bare feet
as I crouch on the path by the river's edge.
I pull my jacket tight around me
as a crisp autumn wind races past with a hiss.
I close my eyes, try to shut it all out –
Have you ever noticed
how it's never really quiet?
Amidst the low roars of vehicles
and the constant chatter of voices, like chirping birds,
there never seems to be a gap in the noise,
and I just want to get away from it all
so
with a reckless leap,
into the rushing water I go.
The river immediately plunges his icy fingertips into my heart
the blinding cold
leaves me breathless, like so many crystalline daggers
stabbed into me.
But as I dive beneath the surface,
the numbness becomes welcome.
As I open my eyes,
though the world above is distorted through the freezing waves,
I see it as clearly as if it were in a mirror.
And with the river's gentle sloshing all around me
I pause –
Have you ever noticed
how we never really reflect
or look past our own noses?
How many times have I seen the towering elm by the riverbank,
but never noticed her intricate bark, like a never ending maze
or how she seems to look to the sky, yearning for warmer days
until now, beneath a foot of water?
But the moment ends as soon as it began
as I come up
for a gasp of air.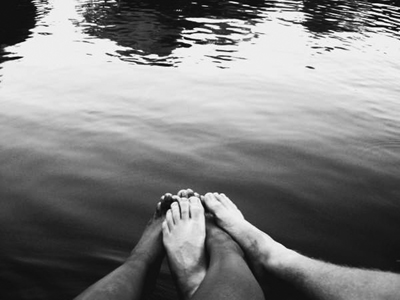 © Michelle W., Ada, MI