Where I'm from
November 7, 2013
I'm from the soft, warm, dark blue chair the corner of an equally colored room.
From the laughing faces framed on the wall that reminds me of those who care.
I'm from the neatly stacked pile of treasured stories by the door. The personal favorites are worn and stained.
I'm from the wall which has a sister's love written on it.
From the little screen in a broken down case that somehow holds the world inside.
From the stairs that open your view to both what lies outside and in. Dusty from the running feet and the littered nick-knacks never brought back up.
I'm from the high ceilinged room that has seen twelve years of my life's events.
From the petite swing set that became an unknown time capsule to a family that stays inside.
I'm from the cracked black drive way and the faded green mail box with the white letters. The hinges of which now swing loosely from the growing hands that open it.
I'm from the black photo box held in hand by an inquisitive seven year old whose siblings are explaining where she is from.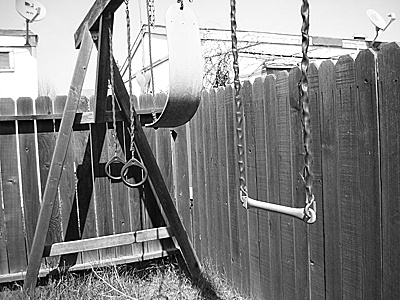 © Brittan S., Chino, CA