Flames
November 12, 2013
Flames linger in the open air,
Wandering as they please,
Warm to the touch, and burning to the feel,
The air is consumed with flame,
The air is getting harder to breath,
Yet you don't leave, there is still,
More beauty to be witnessed,
The orange tendrils lick at the air,
Swirling in the many colors of autumn,
Up into the air the Flames rise until they block out all sight,
Devilish the flames look,
Yet wonderful at the same time,
They fly into the night sky and mix with the clouds,
Beautiful shades of reds and oranges the sky becomes,
After many years the flames in the sky still come back,
Each time a different color, to amaze us.
Swirling in the clouds the flames grow longer and swirl in the night sky,
They cover the sun and the sun burns a bright red,
Consumed in flame and color,
Will this wonder ever end?
I do not know, but I still can see the flames in the sky,
Appearing every autumn morning.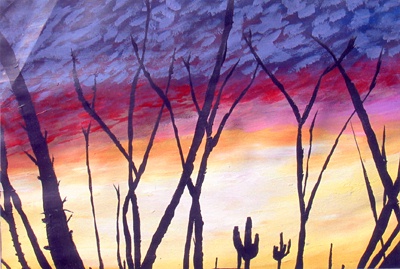 © Kassia C., Phoenix, AZ