Ten Things to Know Before Promising You'll Stay
November 20, 2013
1. Sometimes I feel like the word is too big and I am so very small but no matter how sad I get I will never love you any less.
2. I like to snuggle. I love the feeling of your body against mine and sometimes I like to place my ear over your heart and listen to it beat in your chest.
3. When I was little, my mom would cradle me in her arms and rub my back when I was upset. It was always really comforting… Maybe you could do that sometimes.
4. I need lots if kisses and cuddles to make the dark thoughts go away. Could you help me with that?
5. If I had a bad day and I want to run out and play in the rain; let me go. I like to feel the rain wash away all of the weight and worry from my shoulders. When I come inside greet me with hot tea, a warm towel, and open arms and I'll be yours again.
6. You will have to kill the spiders.
7. Sometimes I'll feel like I am burdening you with all my problems. I apologize in advance for all the times you will ask me what's wrong and I'll shake my head and fight back tears. Just kiss me and hold me tight and the tears will fall and I'll tell you everything while whispering the the words 'I love you' again and again into your ear.
8. It is not an easy thing for me, falling in love that is, but once I do I tumble head over heals. All that I ask is that you catch me when I fall.
9. Every moment we're apart I will be counting down the seconds until I see you again. You will be the center of my world.
10. You have to be my safety net, catch me when I fall and be there for me when I fly… only to fall again into your arms.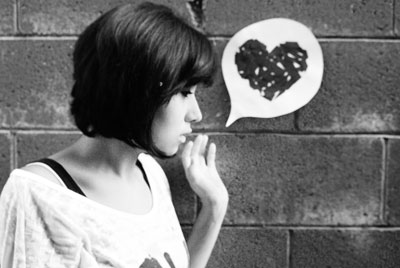 © Michelle B., West Covina, CA