Saudade (noun ; longing, nostalgia)
January 26, 2014
Saudade
(noun ; longing, nostalgia)

I.
We were the dirty footed girls,
the truth twisting girls,
the secret keeping girls;
laying in a field somewhere
tying knots in the stems of daisies
and blowing white off dandelions.
We had slightly red, wide eyes
with wet lashes.
Through shadowy vision we saw
clouds, naive white shapes
morphing into one another.

II.
We were the clouds.





And we could see everything below.
Our fathers understood and
our mothers were reserved,
and the entire world was fed at night.
Everyone homes and places to go.
And everyone visited her sister and the children
on the weekends. And everybody drank tea
and had small tattoos on clean wrists
and everybody was okay and nobody was broken.
Only occasionally did we cry,
and the world didn't even mind that.

III.
In that moment, in that two-thirty a.m.
Half of the lights were off,
small pools of light
hovered above a few lamps.
We were sitting
in a circle to the left of the bed,
cross legged with smudged makeup.
We were talking like teenage girls,
giggling about kiss and tells,
ranting about parents.
And whispering about
sins and wickedness.
And oh how we wished
we could just be clouds instead.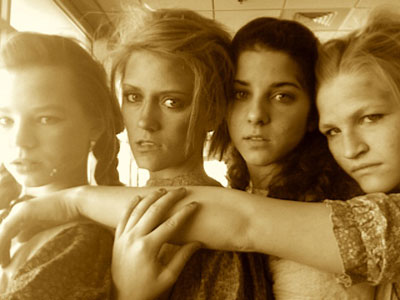 © Sarah Q., Leawood, KS