Blue Eyes
January 28, 2014
I saw you today
Were you staring at me?
I smiled anyway.
Were your eyes always that blue?
I never took the time to notice.
I'm sorry for all of the things I don't have the courage to say.
The words forever trapped in my head that sit on the edge of my lips
Teetering on the tip of my tongue
Until
I swallow them and look away
At the floor, at the ceiling, at the inspirational poster proclaiming "Go for It"
Anything but those blue eyes.
Why did I look away?
Why did I run away?
I want to come back.
I want to get lost in those blue eyes until I have them memorized
Down to the tiniest golden speck
You will never know that though.
You won't know it until the words bouncing around in your head spill out all over the floor for me to see
So I know it's safe to let my own words out
Are your words locked up tight never to see the light of day?
Or are they on the edge of your lips
Teetering on the tip of your tongue?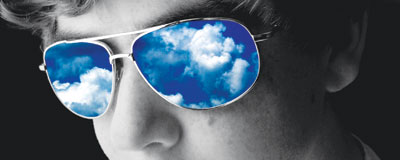 © Joseph B., Mesquite, TX