Castaway Souls
February 5, 2014
Does anyone care to know?
About the boy who lies alone,
In a bed that doesn't feel like home,
With a heart of knots,
And an empty spot,
Where her scent still clings to sheets,
Like a lost puzzle piece,
Except he knows exactly where it resides,
And he can't get it off his troubled mind.

And does anyone care to hear?
About the girl choking back tears,
As voices echo in her ears,
Whispering that no matter how hard she tries,
It would be better if she died,
But no one else can hear the sound,
Of her whole world crumbling to the ground,
And she wonders whether they might finally hear her pain,
If she were rolling in the grave.

Or does anyone care to see?
The demons roaming inside me,
When I am asked to give my all,
To testing my ability to recall,
And told to invest myself in my future,
When the thought of a future fills me with terror,
I feel trapped in this body day after day,
Lately I've been wondering why I even stay,
I count the reasons each night before I sleep,
But I fall more in love with darkness with each passing dream.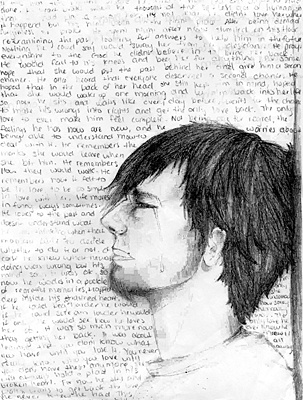 © Annie M., Columbiana, OH