Paintbrush Our World
February 12, 2014
Let's paint a picture.

We'll make it big; bigger than the sky
And wider than the east and west are apart.
It'll be a really good picture, but different.
We won't give it a name
Or a shape or a color.
We'll just paint
And figure those things out later.

Okay, let's start:
We'll take a brush
Dip it deep into the water can,
Making sure it's all nice and good and wet.

Alright, now we'll paint.

We'll paint everywhere
And everything,
Paint with a nice even coat too.
We'll paint over walls and clouds and bridges,
We'll paint over everything,
And make feelings fly
And souls bubble.

Okay, are we done?

Oh, no—not yet
—But let's stand back and see what we've done so far.
There are no colors—we've covered those up,
There are no shapes, no sizes or shades
It's just us with our bubbling souls and soaring hearts—and our paint brushes.

Looks good so far—
Let's keep painting.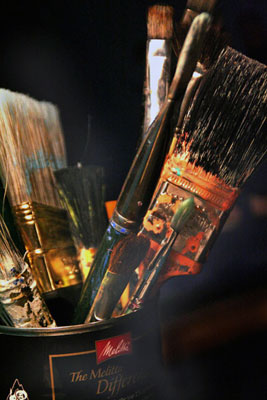 © Marina L., Orlando, FL