Winter Snow
February 21, 2014
Winter snow- so beautiful with the white color and being so cold.
It snowed all night last night and so the snows not that old
It hasn't started melting yet which is really good
Because I like looking at all the snow on the house in my neighborhood.

A kid is making a snow angel but soon gets up and sees his brother and makes a snowball
The brother is way too busy to play because he he's working on making a snowman six feet tall
When the kid gets the snowball ready he takes aim and fires
But the brother is too busy and doesn't pay attention so he retires.

I sit outside watching the kids but also smell the wintery air
While it blows snow off of limbs and also moves my hair
My cheeks and nose are rosy red but I don't care
Because thinking of a place with no snow would be hard to bare

I finally decide to go inside to take off my jacket and warm up
Then I instantly go in the kitchen and put hot chocolate in a cup
It immediately warms up my hands and the chocolate smell puts a smile on my face
Watching the marshmallows melt quickly like they are in a race.

Other seasons are really amazing but the snow in winter is nice
You get to look at all the white and from the ceilings you can see ice
Snow is such a wondrous sight
But you have to be careful not to get frostbite.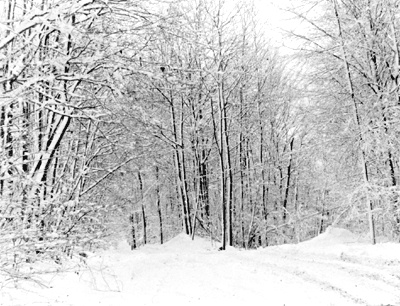 © Thomas S., Portville, NY