We All Grew Up
February 22, 2014
A peaceful silence covers the playground
Like the snow falling softly to the earth.
The laughter of my classmates at recess
Still fresh in my mind after years spent growing up.

The metal is rusted and the paint chipped,
Yet still standing strong as if it were yesterday.
The days we spent running around
With scraped knees and bright eyes.

My eyes are now at level with
The monkey bars I could never reach.
Every ladder and slide, although tattered, is still intact,
Still shrinking as we outgrow them.

I turn my gaze just down the hill
And past the fence to my backyard.
Training wheels have long been replaced by cars while
The worn swing set still calls to me every now and then.

The slight breeze rustling the bare branches
Reminds me of how everything has changed,
Almost giving me a sense of pride
Knowing that I have been here to see it all.

I smile, pulling my coat in tighter around me
As I start to walk the familiar path back home,
Breathing in the crisp, winter air
And memories of those simple days.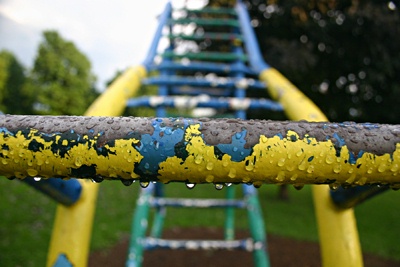 © Faith E., Albany, NY