The Leaf Watchers
February 27, 2014
This is my thinking tree.
The same tree as last year, and the year before.
The leaves are falling,
tiny crimson, amber, and tangerine flames.
The same leaves.
The same leaves will fall next year, but next year I will be wiser,
more experienced.
Next year I could be with a handsome man or a great new feat under my belt.
Speaking of my belt,
maybe I will be thin and fit like I've always wanted.
Let us be honest though:
Who am I kidding?
I won't be, or have any of those things.
I'll be the same.
By myself, I will lie in this place.
I will watch the same leaves fall from the same tree, with the same stupid pudge around my stomach.
People have been doing this for thousands of years.
I guess this is my justification.
They lived through the same seasons,
lay under trees and watched leaves fall.
They dreamed of fantastic goals for the New Year,
but would never achieve them.
I am just another one in the masses that lies under trees.
It's a wonder society has moved forward with the number of people as zealous as I am!
I do love the seasons though.
The same seasons that all the leaf watchers have lived.
Winter will come soon and drag out its death until spring will arrive with vibrant, new, and ambitious azaleas and bluets.
We'll change our clothes and prepare to beat our fat winter bodies into shape for the speculating eyes of summer which will eventually look away.
Following such an active time of year, the world will calm itself
and this tree will be here next fall.
So it will comfortably continue until I die.
The final, and most peaceful routine of life.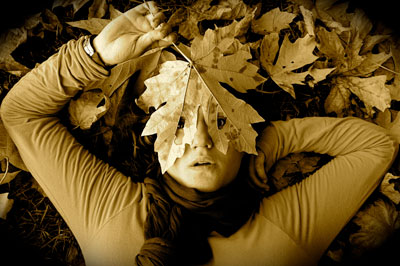 © Garrett M.