I choose you
March 26, 2014
Somehow I know it's true.

Running won't save me

From the darkness that surrounds me.
My feet pound the ground,

Trying to escape this feeling.

With my eyes closed I go running,

Oblivious to my surroundings.

The air around me constricts my breathing.

I stop and open my eyes under a large oak tree.

The beautiful sight amazes me.

A large expanse of flowers covers one acre of land,

The sun shines on one particular flower.

The blue one.

I approach it cautiously, getting a foreboding sense.

The petals glisten and shine in
the small sunlight available.

I reach out to touch it

Just as another hand folds over mine

I look up.

His face.

Right there.

His words are like honey,

"I told you I wouldn't stop
chasing you."

He supports my elbow and helps me stand up,

I look into his eyes.

He is holding the flower.

Another object catches my eye.

I look behind me,

My past stops at the meadow,

I must choose which path I want to take,

I choose you.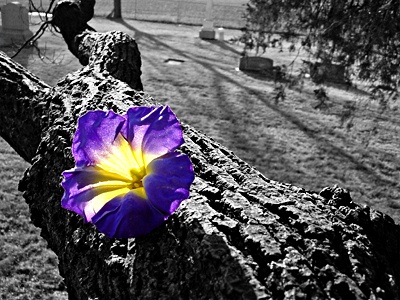 © Greg K., New Lenox, IL