Exhausted
April 26, 2014
I open my eyes at a very slow rate,
like a dreamy turtle waking up on a white-sandy beach.
My pupils shrink as i eye the daylight with hate-
I wonder, why can't i stay in bed?
Why can't the day just stay... late?
Why must the sun rise so bright and red?
Alas, it is date...

I slump forward on my chair,
Eyes watering with exhaustion.
I feel like I've been wandering a desert for nights without sleep,
but I know I must climb the ladder of life, no matter how steep.
And now, It's as steep as Mount Everest.
Like a fool, I trip and stumble all day, closing my eyes whenever I may.

When I get back to my bed, I feel like my room is a humid, moldy, boring garage, and that the day has been naught but a long and depressing montage.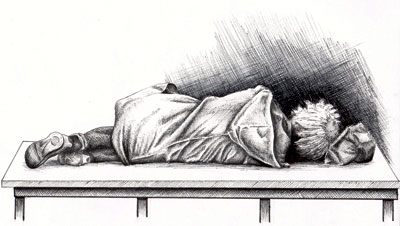 © Devin N., Sherrills Ford, NC