The Town Called Azalea
May 11, 2014
Sunlight danced across my face,
glinting and gleaming all over the place.
Roses were yawning, stretching their stems,
Signs of good fortune, they stuck out like gems.
Bubbling brooks and serenading streams,
Paths without bumps or even misplaced seams.
Here in the town of Azalea nothing was dreary,
but jovial and heartwarmingly weary.
I whistled and hooted, spring had finally come!
Winter had gone. Guitars went Thrum! Thrum!
Grass like an emerald, Sky like the sea,
Oh I was happy, happier than thee!
My heart was on fire, with joy unbeknown.
Oh how that majestic sun had shone!
I miss old Azalea, truer than true,
But I'd rather be here, dancing with you.
You are the sun, warm and delightful,
Compared to you, that town is frightful!
Eyes like the galaxy, far away and stellar,
Not simple enough for a lovely ocean dweller!
Lips as red as crimson blood,
softer than a flower bud.
Oh my dearest sweet,
there is nothing that can beat my love for you.
Not the magnificence of a stained glass church,
or a wondrous bird, out on a perch.
For you are my love,
more graceful than any dove,
and truly more amazing than I.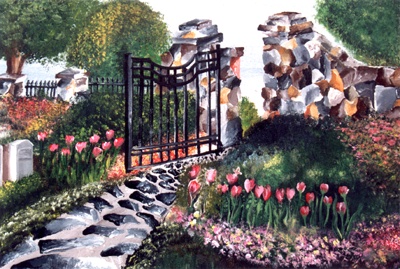 © Anabel T., Kannapolis, NC