Petrichor
MAG
July 25, 2014
this is how i call my lost love poems:
the scent of dust after rain
you cradle thunder in your collarbone
and it crashes in your voice, your hands
trembling with bones shaped like lightning.
your lips don't tremble, already drowned
by the storm that has moved to your fingers.
the skin over my hips has cracked open
for you: an earth sharp and empty,
violently blooming drought.
when your hands pull my hips with a tremor,
i wonder if the storm begs
for forgiveness, feverish and unspoken.
i always conjure you as water,
the color of your arteries quenching and dissolving,
as if you were named for the river in me
eroding my ribs to cello strings reverberating
under your trembling fingers.
together we are vibrato:
deep notes shaking in our throats
with a sting like salt water,
waves of water, waves of sound.
we play each other pizzicato,
and when our strings snap back
we spit up chords like broken prayers
we hoped we'd never need to say.
the last time i confessed
(i am always thinking
about negative space and unmeasured distance)
i was assigned three hail marys;
i found each one searching
for the bright flashes in your bones
till you sighed – thunder, the echoes
of my penance. you trail kisses
on my neck like rosary beads,
and i know my guilt won't wash away.
i am all burning
sand, all dust storm, the uprooted
pieces of me rolling into your rain.
collisions like these aren't meant to last.
even though we are painting each other
in whisper of love and stay,
our hands are not holding one another;
we are anchoring ourselves.
when we know forgiveness cannot be coaxed
out of bodies or tongues, our storms
retreat. inhale our closest attempt at
reconciliation for silence,
exhale without the words
we meant to say and needed to hear.
when i leave, my mouth is full of dust.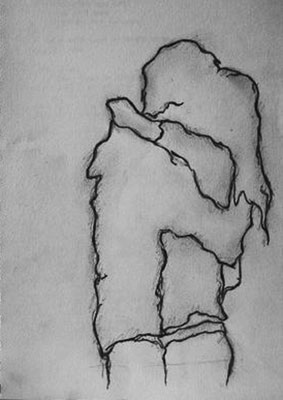 © Nicole B., Newcastle, WA