so lonely
August 18, 2014
By the time I was your age, I can tell you for sure,
All I wanted was to fall in love.
And that's when I met your father.
He was handsome, to me. Though many of my friends said I could do better,
I never paid them any mind.
He was my first kiss, it was awkward, our faces bumped too hard, and I'm pretty sure I bit his lip, in the 'nonsexy' kind of way.
But I can tell you, I won't forget it.
He tasted like cigarettes and root beer.
He brushed his fingers through my hair and behind my right ear, until he cupped my face.
Then he told me that he loved me. I nearly cried.
Nobody besides my family had ever told me that before.
Instead of crying, though I shuddered. He figured I was cold, it was January for that matter, (January 14th) so he wrapped me up in his oversized jacket. It was so big it probably could have fit us both.
He gave me a double-hearted necklace, sterling silver, with a cubic zirconia pendant.
It was the first real gift a boy had given me.
I did cry then. I couldn't help it, I was, and still am, a huge crybaby.

Then to skip forward.
Then came you. And that's when things went sour.
He didn't want you, well, he said he did but was too afraid.
I wanted you, I loved you from the very beginning.
Because you were ours.
You were mine.
And up until the day I miscarried.
I was going to keep you, no matter what he said.
But after you left my body.
I no longer felt the need to live.
Especially after he left me too.
Found someone new to screw.
Only the three of you could have made me feel so lonely.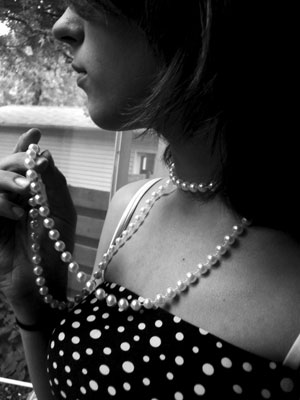 © Elaina V., Canton, OH