For Those Who Try To "Help" (Please Stop)
August 31, 2014
I am like a shooting star
in that oftentimes,
most of the world will only find me beautiful
when I am falling.
There is something romantic in the concept
of a broken girl,
waiting for a superhero or
a knight in shining armor to show up
with some duct tape and crazy glue,
just in time to fix her. 
But what they don't know, is that
it's the sharp of the needle 
that pulls the stitches through the skin.
A superhero will not hurt you to help you heal, so 
sometimes, you have to patch yourself up.
I've always been a crooked scarecrow,
maybe missing some of my insides, but
no one ever steals from my garden.
I'm good at protecting what I love, 
and pardon me, 
sir,
but you did not teach me to love myself.
No one ever wishes on a shooting star
after it crashes, so
when I hit rock bottom,
I have faith that I can teach myself
to bounce back.
When I find myself surrounded by my own rubble,
I'll shake the dust until the storm is enough
to motivate me to clear my mind.
We all have landscapes in our bones,
and when you hear the crash of an avalanche,
your first instinct is to run.
When the earthquake shakes the paintings
from your living room walls, 
your first instinct is to move away.
If I break down in the forest,
and you are not there to hear me,
will I make a sound? 
I am a disaster sometimes, and
there is nothing romantic about that.
You cannot rescue a wildfire.
You cannot look at my crumbling mountainsides
and tell me that 
the broken parts of me 
are the prettiest.
You cannot tell me you love me
when all you see when you look at me
is something that needs to be fixed.
You know,
I've always been an ugly crier.
I have scratch marks on my neck when I emerge
from panic attacks.
And when I get pissed, 
I swear like a drunken uncle.
I am not beautiful when I am sad.
I am beautiful like kryptonite,
beautiful like the mud in my rusted, 
removal armor.
I am beautiful like the crater in the ground
where the meteor hits; the strength 
of something that 
fell and survived.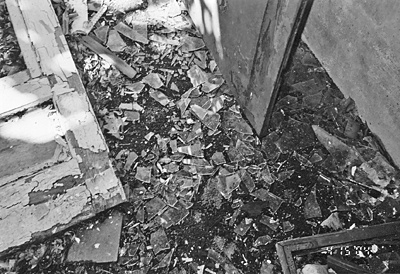 © Gary C., Pequannock, NJ