Where I Am From...
September 16, 2014
I am from...
       Land of the free and home of the brave
City of cheeseheads and the green and gold
                      80,000+ cheering from the stadium.
  M y   c i t y.

I am from...
              Brown doors that giants have to open.
        Rooms that I get lost in, size-four feet sinking in carpet.
Fleets of mosquitos that force me to sleep with the sun.
M y   h o m e.

I am from...
Walls that shrink with the years, marks from my hands reaching my knees
                  Hello-Kitty blanket that my feet cannot reach the end of.
Yellow and pink covers on pillows to keep the dust away.
   M y    r o o m.

I am from...
      Short, titian hair that curls in the water.
Bright, colour-changing eyes that twinkle
         Laughter that moves the ground.
  M y   m o t h e r

I am from...
Raven tresses that t
                                u
                                    m
                                         b
                                              l
                                                  e
                                                     down my back in tight curls
Unpolished sapphires seeming so  l         l with thought, longing.
                                                  l         l
                                                  l         l
                                                  l deep l
F? ?L? ?A? ?W? ?S? cover my skin and reach inside me to my heart, my lungs and muscles
M E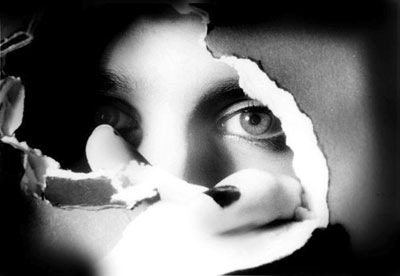 © Tabatha B., Peoria, IL