Life Is A Symphony
September 20, 2014
The audience hushes its whispers and all eyes turn
to the man clothed in black
and bathed in light.
He drops his baton, and the symphony begins. The violins
foray into a light ballad, exploring the parameters and
emotions of the new mysterious melody.
Guided by the steady hand of the conductor, the music
gains strength; singing, weaving, and sighing as the
melody flows on.
Then a subtle harmony falls on the listeners' ears,
and the players stray from the baton's lead.
Tension builds, and the man in black struggles to
control the symphony's every nature, impressing his
own will, and
meets opposition at every note. He hears the
music's will to be released. The bass drum strikes!
And a rapid succession roars from the stage.
A furious trill rings out, and the music is free,
flowing, out from anything the conductor can control.
So he sits back, submissive, knowing,
and watches the song take on a dark
minor tone, with danger at every measure.
The musicians must be perfection, for a false –
step could cause their years of work to become nothing.
They draw on each other's succor, and finally
sing out as a chorus the triumph of their success.
The emotions of the tale are released and
the melody resonates through everything
it touches.
The baton gives a nod to the players, and
the music returns the gesture,
for it has the experience of time and the
confidence of numbers, all
in support – of each other.
Willingly players fall out of the chord,
by mutual respect for the baton,
until there is only one player left,
old, wise, but full of youth.
The last note fades into darkness,
the players ascend into darkness,
fade from sight, and
all the audience can do is remember,
and pay tribute to a full life of expression,
the lifetime defined in their minds by
the players who performed it.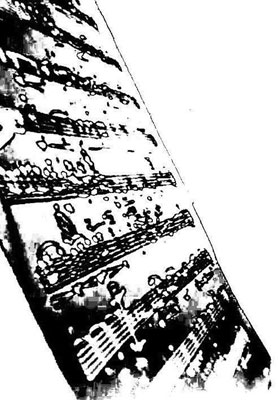 © Allan L., Plano, TX