Stelle
September 21, 2014
You asked me,
do you read peoples' eyes?
And I said,
I don't know,
do I?
You couldn't answer me.
how would I know,
you said.
Well.
I thought about why you had asked.
was it because I had looked into yours,
for just a second too long,
and realized how blue they are?
Blue like a San Francisco fog blanket,
blue like the sky after it snows,
The eyes are the windows of the soul, they say,
and I couldn't help but look in.
Not because I love you.
No.
Not like a lover looking into the other's eyes.
If it were like that,
I might have said
ci sono stelle in occhi, amore mio.
But no.
I haven't read anyone's eyes.
I am illiterate, my dear.
But I am determined to learn now.
I will read a person just like words.
They say some are like an open book.
And you are closed,
my dear.
But amore tuo is open to me.
I have deconstructed and rearranged and untangled
her eyes.
I know when she is sad.
That morning, I looked into your eyes,
and saw nothing.
I am naïve, clueless, a jumble of colliding atoms.
And now I think of piano keys.
Last breaths.
Glaciers and unsinkable ships that sank,
and the heavy weight you get on your chest before you cry,
like a stone sinking to the bottom of the pond
making the water distorted and ugly,
no I call that nature's beauty
and I think of blue stones and tears and needles and seeing your reflection in things that aren't mirrors
And I start to realize that maybe I am learning.
How to read,
amore mio.
Ci sono stelle in occhi.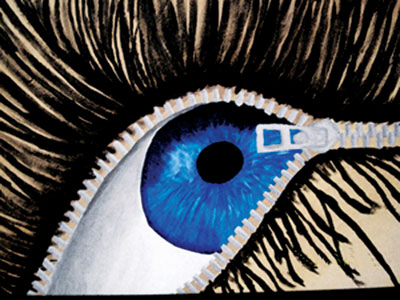 © Brad S., Lecompton, KS